Skip to Main Content
Edith Garland Dupré Library Annual Caffery Competition: Call for Student Papers
The annual Caffery Competition honors the most outstanding original student scholarly paper written using special collections materials from Dupré Library.
Congratulations!
René Champagne has been named the winner of the 2021 Jefferson Caffery Research Award. His paper, "Cajuns, Creoles, and the Impact of Americanization on Ethnic Identity in Louisiana." examines the evolution of race and ethnicity as a result of factors such as assimilation, and the resulting impact on cultural identity. The almost two dozen sources Champagne relied on for his award-winning paper range from the Louisiana Office of Cultural Development and The New York Times, to the U.S. Census Bureau and the Journal of Anthropological Research.
René is a senior double majoring in French and Francophone studies and in anthropology.
UL Lafayette Office of Communications and Marketing has written a story about René's award-winning paper.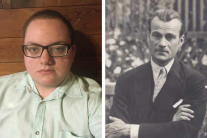 Photo Caption: René Champagne is the winner of this year's Jefferson Caffery Research Award. The prize's namesake is at right. (Photo at left courtesy of René Champagne. Photo at right is courtesy of Special Collections at UL Lafayette).
Jefferson Caffery Research Award
Guide Author 
Sheryl Curry
Contact:
Associate Professor and Assistant Dean of Technical Services
Call for Student Papers 2022
2022 Competition
Deadline for Submission:
To Be Announced
Winner will be announced: To Be Announced
Competition Information
Guidelines
This award is based on competitive review of original research papers submitted to Edith Garland Dupré Library.

Topic
No restrictions are placed on the topic or subject matter of submitted papers; however, all papers must cite or directly investigate primary source materials held in the Special Collections of Dupré Library (University Archives and Acadiana Manuscripts Collection, Louisiana Room, Rare Book Collection, Ernest J. Gaines Center, Cajun and Creole Music Collection, and U.S. Government Information).

Format
All papers must be typed in a standard non-script font no smaller than twelve characters per inch, double-spaced, unbound and adherent to the style manual recommended in the author's discipline. If possible, the pages should be numbered. Text of papers should be a minimum of 2500 words.

Abstract
All papers are to include an abstract of no more than 250 words. Please identify the style manual being followed.

General
All papers must be in English and must be in the work of a single author.

Procedure
The competition is open to both undergraduate and graduate students of the University of Louisiana at Lafayette® who are not full-time continuing faculty or staff. The students must be currently enrolled or have completed the submitted paper during the previous two academic semesters. The paper should not have been previously published on an open access platform. A judging panel consisting of the University Library Committee, Head of Special Collections, and referees designated by the panel will evaluate all submissions using the Caffery Award Rubric, louisiana.libguides.com/cafferyrubric. The winning candidate should meet the "exceeding expectations" elements of the rubric.

Submissions
Papers are to be submitted electronically with all contact information, including ULID, to librarydeanoffice@louisiana.edu no later than 'To Be Announced'. Winner will be announced in 'To Be Announced'.

Contact
Edith Garland Dupré Library
Jefferson Caffery Reading Room
3rd Floor
400 E St Mary Blvd
Lafayette, LA 70503
(337) 482-6031
speccoll@louisiana.edu
Special Collections Department of Dupré Library
The Special Collections Department of Dupré Library contains materials of relevance and scholarly interest to students from all academic departments of the University. Students interested in submitting a paper to the Competition should visit the Jefferson Caffery Reading Room on the 3rd Floor of Dupré Library to review the catalog of library holdings in these areas. The staff in the Special Collections Department are available for consultation. Interested students may call (337) 482-6031.
---