Search the Library's Catalog
To find books in Spanish in the catalog, you must do an advanced search, then change the language on the lower half of the page. Catalog information on books doesn't generally say whether they're in Spanish or English aside from the title being in that language.
Books on Spanish and Spanish literature are on the second floor. To see a floor plan of Dupré Library, click here.
PQ6001-8929 Spanish Literature
PQ6001-6168 History and criticism
PQ6001-6056 General
PQ6056 Moorish-Spanish literature
PQ6058-6060 Early to 1500
PQ6061-6073 Modern
PQ6075-6098 Poetry
PQ6098.7-6129 Drama
PQ6131-6153 Prose
PQ6155-6167 Folk Literature
PQ6168 Juvenile literature (General)
PQ6174.95-6215 Poetry
PQ6217-6241 Drama
PQ6265-6269 Translations
PQ7081-8560 Spanish America
Encyclopedias and Indexes
Bibliographic Guide to Latin American Studies (Call number Z1601 .B52)


Encyclopedia of Contemporary Latin American and Caribbean Cultures

(Call number F1406 .E515 2000)

Spanish Books from the Catalog
2666
Call Number: PQ8098.12 .O38 A122 2004
ISBN: 843396867X
Publication Date: 2006-02-01
2666 is divided in 5 books, each of them talking about an interweaving story related to the ficticious city of Santa Teresa, a mexican border city where the savage rape and killing of hundred of women remain unpunished.
El Amor en los Tiempos del Cólera
Call Number: PQ8180.17.A73 A7 1987
ISBN: 9500703203
Dos historias hay en este libro. Una de ellas, apenas esbozada, es la de un amor secreto que culmina en la muerte elegida por un hombre que quiso ponerse a salvo de las tormentas de la memoria. La otra historia es la de un amor que hace de esos tormentos su alimento. Un amor acechado por los enemigos: el deterioro fisico, la vejez, la muerte. Una muchacha de dieciocho anos rechaza al hombre de quien ha estado enamorada y con quien le han impedido unirse.Un deseo ahincado en si mismo, que avanza hacia su origen en un movimiento que no cesa.
El Senor Presidente
Call Number: PQ7499.A75 S413 1985
ISBN: 0689705212
Publication Date: 1975-02-01
Handbook of Latin American Studies
Call Number: Z1605 .H23 NO.63
Publication Date: 1935-2008
Latin American Studies
Call Number: Z1601 .L324 1990
ISBN: 0810822369
Publication Date: 1991-04-01
This is a comprehensive introductory guide to research on Latin America in the social sciences and the humanities. Thirty-seven chapters describe the many types of resources and research techniques available for the study of the region, identify major reference works in the field, and offer suggestions for academic training, travel, and professional development. With an author/title reference-source index, a detailed subject and institutional index, and a guide to acronyms and abbreviations.
Latin American Studies
Call Number: Z1601 .C536 2002
ISBN: 0786412569
Publication Date: 2002-06-11
The Latin American studies collections at many community, junior and four year colleges, and large public libraries often contain materials that are too specialized, uneven, outdated, incomplete, or written in Spanish or Portuguese--thus rendering them essentially useless to English-reading patrons. Better materials are out there, but librarians simply have not had, until now, a good resource guide to help in locating them.This work, designed as an acquisitions tool for colleges and libraries, is an annotated bibliography of approximately 1,400 recommended books published from 1986 through 2000 in the field of Latin American studies. It is divided into chapters that deal with reference works, descriptive accounts and travel guides, the humanities, language and literature, the social sciences, and science and technology. For the purposes of this book, Latin America is defined as all geographic locations south of the Rio Grande. While these are chiefly Spanish and Portuguese speaking regions, works about French, English, and Dutch speaking areas are also included. The literary works of authors living abroad are included if they are considered quintessentially Latin American. Periodicals, children's literature, audio-visual resources, and works about the Hispanic and Latino experience in the United States are not included.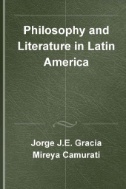 Philosophy and Literature in Latin America
ISBN: 0585065047
Publication Date: 1989-01-01
Remembering Maternal Bodies
Call Number: Holdings Edith Garland Dupre Library Copies Location PQ7081.5 .T75 2006
ISBN: 1403964696
Publication Date: 2006-01-22
Remembering Maternal Bodies is a collection of essays about the writings of several Latina and Latin American women writers who remember their mothers, and/or challenge our commonly held beliefs about motherhood and maternity, in an effort to stop depression and melancholy.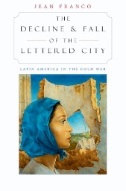 The Decline and Fall of the Lettered City
ISBN: 9780674037175
Publication Date: 2009-06-01
The cultural Cold War in Latin America was waged as a war of values--artistic freedom versus communitarianism, Western values versus national cultures, the autonomy of art versus a commitment to liberation struggles--and at a time when the prestige of literature had never been higher. The projects of the historic avant-garde were revitalized by an anti-capitalist ethos and envisaged as the opposite of the republican state. The Decline and Fall of the Lettered City charts the conflicting universals of this period, the clash between avant-garde and political vanguard.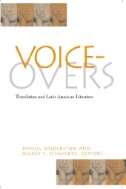 Voice-overs : Translation and Latin American Literature
Publication Date: 2002
Vuelta
Call Number: PQ7297.P285 V8 1986
ISBN: 8432204331
Publication Date: 1990-01-01
"Recoge la poesia escrita tras el retorno del poeta a Mexico, en 1969, despues de una larga ausencia."
Finding materials not in Dupré Library
Can't find something in the Dupré catalog or through available databases or archives? Using WorldCat, you can search many of the world's libraries for books, articles or media material.
WorldCat searches many libraries in the U.S. and other countries for books and other materials.
To log-in and check out materials via Interlibrary Loan, you'll need to access the ILL home page.